After a tough few weeks I am back and ready to blog again. Thank you for sticking with me.
Dear Grandad
- Yesterday would have been your birthday, I hope you spent it celebrating with a yummy cake wherever you now are. I miss you and think about you every single day, I only hope that you would approve of the life choices I have made in the past 6 years, without your influence I wouldn't be the strong, determined person I am today. Love you always xxx
Dear Bag
- I love you! I can't stop looking at you and stroking you :)
Dear F
- Thank you so much for asking me to be your chief bridesmaid, I am so unbelievably honoured and looking forward to helping you with the wedding every step of the way xxx
Dear S
- I really appreciate our new found friendship, long may it continue xx
Dear I
- Get well soon, It's times like this that both Stuart and I hate being so far away from home xxx
Dear Stuart
- I'm letting you off picking mostly blondes with big boobs for your list but only because I love you and you make me feel loved every single day. I may grumble about the amount of questions you ask me but I know it's because you care xxx
Dear Bloggers -
Any ideas how I can stop my husband from snoring? It is the most ANNOYING sound in the whole entire world!!
Dear Weather
- The forecast says you are going to be sunny this weekend, please please hang around for longer than a couple of days, my legs are desperate to be out of tights.
Dear Stuart (again!)
- Be warned - you may not have let me win a game of Monopoly cards but I will beat you one day and then I will resign from the game as winner (yes I am THAT competitive!) On the other hand, cocktails? xxx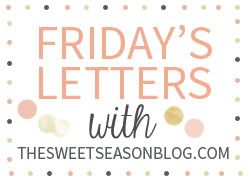 I hope you all enjoy your weekend at that the sunshine makes a much needed appearance x