The last couple of weeks have been tough, but I am now slowly feeling like myself again and I am eager to keep moving forward. I can't tell you how much I have missed my blog the last couple of weeks, I have thought many times about writing about how I've been feeling but I have been unable to find the words, however I am back now - with some fun recipes to blog about soon!!
Dear Stuart -
Thank you for holding my hands, and letting me talk through my fears with you. I don't know how to put into words just how much everything you have done for me means to me, I am sorry we are going through the 'in sickness' bit first but things can only get better from here. Oh and happy 9 month wedding anniversary! xxx
Dear Hair -
Loved getting you cut this week and the way the pampering made me start to feel more like myself again.
Dear Nails -
Loving the new summery look you are currently sporting, looking at you makes me smile :)
Dear Mom -
Thank you for always being at the end of the phone and for always having words of encouragement to keep me going xxx
Dear Tetley -
Loving the new super cuddly you, long may it continue!!
Dear Weather -
Please no more snow! I would love some warm weather so that the lambs can go back to gambolling around the fields and my flowers in the garden will grow.
Dear Wardrobe -
Love the new look, it is quite possibly one of my best ideas to date (pics to follow)
Dear Bloggers -
Thank you for all the support you have given me the last couple of weeks, the words and messages you have sent me have lifted me up and made me realise how much there is to fight for xx
Dear Twitter -
I love how the most menial of my posts get favourited by random people, I love how I get most of the days gossip from you, and I love that I can ask for help and get it almost immediately.
Dear Anxiety -
I bet you thought you had me beaten but even I'm not that weak, I will fight you and I am ready for the battle of my life. Be warned.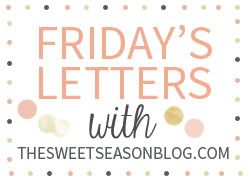 Enjoy the weekend, I will be spending it with friends at the seaside.