Sunset over Calais.

Wow, what a topsy turvy kinda week, I have been overwhelmed with messages of support I have received. Very excited to be on the next step to my recovery :)
Dear Stuart
- You rock! Where on earth would I be without you? The last 6 months have been really tough for us, instead of getting annoyed you have stood by my side, held my hand, wiped away the tears and calmed me down during panic attacks. There aren't enough words for me to be able to tell you how much you mean to me. You really are one in a million xxx
Dear Bailey
- I love you but please stop digging holes in the garden!
Dear Tetley
- Loving how cuddly you are at the minute, long may it continue!
Dear Twitter
- Why are my most random tweets suddenly being favourited left right and centre?
Dear F
- Every girl needs a friend like you, you are amazing xxx
Dear Sun
- Thank you for finally making a long overdue appearance! Today I am hoping to sit in the garden with a good book and enjoy you :)
Dear Twitter
- You really are a good place when you need support, complete strangers this week have confided in me, sent me messages of support and reminded me that the world is a good place.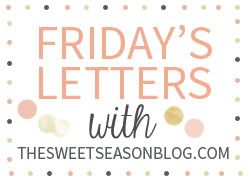 Enjoy your weekend guys, I hope it is filled with sunshine and giggles xxx