This has been a topsy turvy sort of week full of every emotion from being deliriously happy to bone crushingly sad and everything in between. It has been a week for remembering friends who have passed and celebrating Christmas with the children I teach. This weekend will see a Christmas party with my Saturday class and a long overdue cinema date with Stuart before spending Sunday relaxing and catching up on all the TV we have saved on our sky planner - cannot wait!
Dear Stuart
- Thank you for being 100% behind my new crazy idea, I love that I can always rely on your support and encouragement and hopefully all this hard work will be worth it when I can the people who need it most xxx
Dear Glasses
- You are me new best friend! No headaches now for over a week and that's all down to you :)
Dear J
- I'm so proud of the way you handled yesterday, after everything you have been through yesterday you showed just how much you have matured and grown up. Love you xxx
Dear C
- I love how our games of word are getting so competitive now even if you are having 'help' from someone else!! Love you xxx
Dear Christmas Spirit
- WHERE ARE YOU?!! The house is decorated, I've enjoyed mulled wine and spent this last week playing Christmas songs, please turn up soon.
Dear Snow
- Please come back again next Friday when I am free to enjoy you.
Dear Body
- I promise to give you lots of rest over Christmas and fill you with yummy food, please don't give up on me now.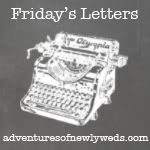 I hope you all enjoy your weekends :) xxx