Its Friday again - this week has flown by, probably due to a mixture of me feeling poorly and heading back to work after a week off! Very much looking forward to having some rest and relaxation this weekend.
Dear Hubby
- Thank you for your love, understanding and just for generally being awesome!! xxx
Dear N
- Thank you for my flowers, there was absolutely no need but I adore them :)
Dear Body
- Please please stop hurting as soon as possible. I know you don't like body conditioning but it is important!!
Dear Head
- If you could go just one day without giving me a headache I would really appreciate it.
Dear Fellow train users
- Please don't ignore the big ass sign which says QUIET AREA - if you need to talk on your phone then please go somewhere else to do it, no one else wants to hear about your boring meetings!
Dear Twitter
- I love how my totally boring tweets seem to get the most attention! Realised this week that I come to you first to get my dose of news and gossip every morning, my addiction is getting worse!
Dear Flowers
- Please last forever! You smell amazing and put a smile on my face every time I walk past you.
Dear Blog
- Sorry for neglecting you this week, I've missed you!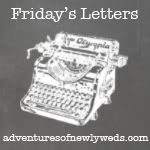 Enjoy your weekend xxx