This week has been all over the place, my emotions have been all over the place and yet I have survived, I am getting stronger and knowing this is having an influence on how I feel.
Dear Readers
- Thank you so much for all the messages of support after
this
post, I was overwhelmed by the lovely messages I received, both in support of my battle and a few of people sharing their stories with me. I want you to know that I will treasure those messages for the rest of my life, and look back at them whenever I need a lift xxx
Dear Stuart
- Thank you for always being there, for supporting me, for being a shoulder to cry on, for everything you do for me, thank you xxx
Dear F
- I love our friendship and I love the support you give me every day, you make me stronger by the day. xxx
Dear Weather
- Please stay sunny, the sun makes me feel so much more energised plus it is June now so surely we can expect some sun?
Dear Year
- Wow you have gone by so quickly, this time last year I was excitedly organising the last bits in the run up to my wedding and now Stuart and I are busy making plans for our first anniversary together :)
Dear Tetley
- I love you, but I don't love you when you creep underneath me during press ups and force me to hold a plank position whilst you look at me all sweet like butter wouldn't melt!
Dear Twitter
- You are constant source of amusement to me, tweets I wrote ages ago are suddenly being favourited and re-tweeted all over the place.
Dear Self
- Remember that you are stronger than you believe, that no matter what life throws at you you can overcome it, don't let the little things become big things.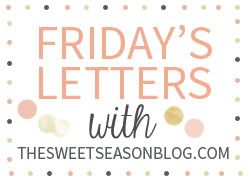 One last thing - I am keeping myself awake at night because of constant coughing - does anyone know something that will let me get a decent nights sleep?
Enjoy your weekend guys, whatever your plans :)