I was sent the picture on the left by a friend of mine and it has struck a chord this week so I thought i'd share it with you guys.
Saw this idea a few weeks ago and thought it was a brilliant idea so here I am, adding my own
friday letters
to the pack.
Dear Husband
, Thank you for calling me every night this week and reassuring me that the only people in the house are me and Tetley, thank you also for constantly reminding me to lock the doors and shut the blinds before it gets dark! Love you xxx
Dear Dad
, I hope you know just how incredibly proud I am of you for being a time keeper at the Paralympics. To me you are a true hero, and I cannot wait to hear all of your stories - especially the one about meeting Oscar Pistorius! x
Dear Nan
, Happy 90th! What an amazing achievement :) Hope you enjoy your party this weekend, looking forward to celebrating with you! x
Dear Ankle
, I'm sorry that I hit you with my big heavy suitcase but please can you stop hurting ASAP as I have to go back to work next week and I can barely walk let alone dance at the minute :(
Dear Twitter friends
, A huge THANK YOU to you guys for being so supportive this week, you've made writing this blog so much fun! A further thank you goes to
Country Girl Does Norfolk
and
Belle Du Brighton
for being so encouraging! xx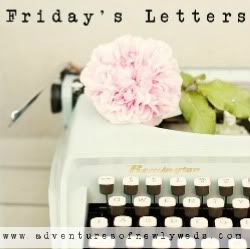 Click the picture to see what everyone else wrote this week!!
Listening to - The wind outside my hotel room (I have packed for summer and it appears to be autumn in Norfolk!)
Feeling - Excited, fun weekend planned with lots of celebrations.
To Do - Finish packing my stuff up ready to go to visit my in-laws.